Description
LeuSynergy is a supplement that activates proteins called SIRTUINS by enhancing the cell's use of the longevity molecule NAD+. This compound works specifically on SIRT-1 to control cell signaling to improve fat oxidation, mitochondrial density, enhance the internal antioxidant system, and decrease inflammation. LeuSynergy mimics the same pathways associated with exercise and calorie restriction. This combination of amino acids and polyphenols enhances glucose control, fat loss, and energy.
Ingredients
• Leucine 1.1 grams
• Resveratrol 50mg
• Pyroxdine 15mg
Recommended Use
Take 2 tablets in the morning and 2 tablets 90 minutes after lunch.
Down Stream Effects of SIRT-1 Activation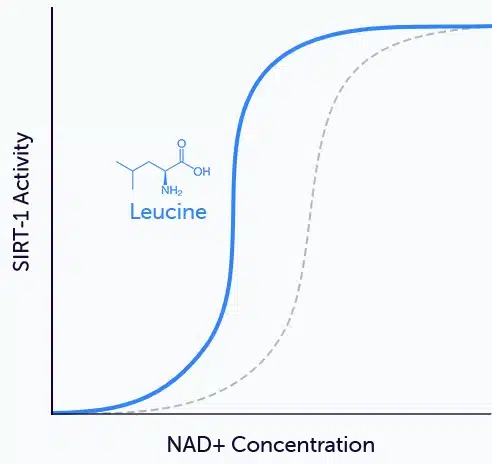 + Leucine activates SIRT-1 by changing the amount of NAD+ needed
+ Low doses of Leucine between 1.0 and 1.5 grams were able to activate SIRT-1 without concom
Synergy with Leucine and SIRT-1/AMPK Activators to Modulate Nutrient Sensing
Leucine 1.1g/Pyridoxine 15mg BID vs Placebo
24-week Placebo Controlled Trial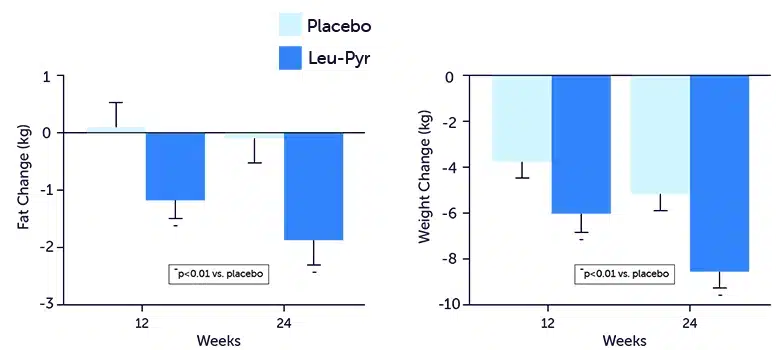 + Loss of waist circumference vs placebo at 4 weeks
+ 82% more weight loss vs placebo at 12 weeks
+ 2x the fat tissue loss vs placebo
Leucine 1.1g/Resveratrol 50mg BID vs Placebo
Pre-Diabetics Subjects Randomize
+ Improved insulin and glucose levels 60 minutes post-oral glucose tolerance test
+ Improved insulin and glucose dynamic
+ improved insulin resistance
References:
1. Zemel MB. Modulation of Energy Sensing by Leucine Synergy with Natural Sirtuin Activators: Effects on Health Span. J Med Food. 2020 Nov;23(11):1129-1135. doi: 10.1089/jmf.2020.0105. Epub 2020 Aug 4. PMID: 32758058.
2. Ruderman NB, Carling D, Prentki M, Cacicedo JM. AMPK, insulin resistance, and the metabolic syndrome. J Clin Invest. 2013;123(7):2764-2772. doi:10.1172/JCI67227
3. Lan F, Weikel KA, Cacicedo JM, Ido Y. Resveratrol-Induced AMP-Activated Protein Kinase Activation Is Cell-Type Dependent: Lessons from Basic Research for Clinical Application. Nutrients. 2017 Jul 14;9(7):751. doi:10.3390/nu9070751. PMID: 28708087; PMCID: PMC5537865.
4. Kitada M, Ogura Y, Monno I, Koya D. Sirtuins and Type 2 Diabetes: Role in Inflammation, Oxidative Stress, and Mitochondrial Function. Front Endocrinol (Lausanne). 2019;10:187. Published 2019 Mar 27. doi:10.3389/fen-do.2019.00187
5. Iside C, Scafuro M, Nebbioso A, Altucci L. SIRT1 Activation by Natural Phytochemicals: An Overview. Front Pharmacol. 2020;11:1225. Published 2020 Aug 7. doi:10.3389/fphar.2020.01225
"*" indicates required fields
Extensive Formulary of Cellular Medicine compounds available through our network of pharmacies
Wholesale pricing for the latest supplements
1 on 1 onboarding with the fulfillment and clinical team
Access to online ordering dashboard
Wholesale account for cutting edge supplements
nuBioAge member-only access to webinars, advanced protocols, practitioner education sheets, patient education sheets
The only cellular medicine development resource that partners with forward-thinking medical practitioners to improve patient outcomes through optimized health solutions.
These statements have not been evaluated by the Food and Drug Administration. The products and information on this website are not intended to diagnose, treat, cure or prevent any disease. The information on this site is for educational purposes only and should not be considered medical advice. Please speak with an appropriate healthcare professional when evaluating any wellness-related therapy.